Clinics
Now Available in the Greater Toronto Area!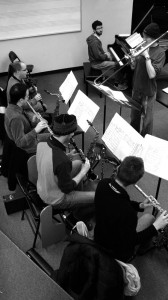 Clovertone Music's commitment to the development of Canadian music students doesn't just stop at the sheet music that they play. We'll actually book a clinician to come in and work with your band giving them insight from professional Canadian musicians right in the classroom.Get your weak sections up to snuff or give a special musical treat to your keen students.
We offer clinics on topics such as:
Sectionals: For any section.
Full band chart rehearsal: Get inside the scores and get your band sounding tight.
Improvisation: Help your soloists sound like the pros.
Theory: Learn what all those crazy chords mean!
Jazz Appreciation: Peak your students' interest in playing this great music.
Contact us and let us know you're interested!